Early access: Sailfish OS 1.1.6 Aaslakkajärvi
Jolla at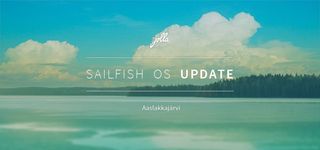 Early access for opt-in users: Sailfish OS 1.1.6 Aaslakkajärvi with private browsing and more!
Highlights:
Search emails by keyword via the pulldown menu in Mail app
Ability to select and mark multiple emails as read/unread
Private browsing mode in Browser
Detailed new on memory (disk) usage usage via Settings > System > 'About Product' page (tap on the Memory usage info circle)
Import calendar entries (.vcs, .ical) transferred to your phone via Settings > System > Transfers to Calendar app
Option to send read receipts to senders of MMS messages (Settings > Apps > Messages)
Show notification if an email attachment cannot be opened
View phone number of a contact in the call log via tap-and-hold on the call log entry.
Notification on file system getting full in Events view indicating that some data should be moved out from the phone memory
Voicemail notifications UI - availability differs depending on countries and operators
Reset MMS settings to default values from the pulley menu in Settings > System > Mobile network > MMS access point page
Better OS upgrade handling

OS upgrade notifications update automatically in case there is a newer OS version available
Filesystem optimizations prior to installing OS upgrades. This will be effective from the next upgrade onwards.

We've recently received approval from Facebook on our new implementation. The account should now work after a re-login.

See Jolla Blog for
more info
, TJC for
release notes
and
full changelog
.
Things to note before/during the upgrade:
If you use phonehook from OpenRepos, uninstall it before upgrading.
If you use patchmanager, revert all applied patches before upgrading.
If your device is running software version lower than 1.0.4.20 and have WareHouse app installed (i.e you are using OpenRepos), disable all openrepo repositories before attempting to upgrade your device.
Take a backup of your data before attempting to upgrade your device. A successful backup operation is indicated by a green dot in the UI.
Do not reboot the device while the update is in progress.
The device screen may blank out during the update process, you may waken the display by a short press on the power key to monitor the progress.

Cédric Heintz, Andrea Scarpino, Tobias Diekershoff likes this.
Cédric Heintz, Andrea Scarpino, Andrea Scarpino shared this.