FLISoL 2018, talk and activity submission deadline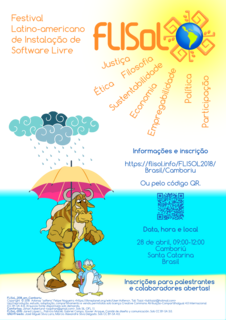 https://flisol.info/FLISOL2018/Brasil/Camboriu
pt-BR: Português brasileiro
O Festival Latino-americano de Instalação de Software Livre (FLISoL) é o maior evento de divulgação de
software
livre da América Latina. Ele acontece desde 2005 e seu principal objetivo é promover o uso de
software
livre, apresentando sua filosofia, seu alcance, avanços e desenvolvimento ao público em geral.
O FLISoL é um
evento
totalmente
gratuito
, ou seja, não é necessário pagar nenhuma taxa de inscrição para participar.
Importante:
Ainda estamos aceitando submissões de palestras e colaborações, e se você enviar alguma agora ou amanhã, ainda podes garantir que a sua será avaliada depois da data limite de 30 de março.
en: English
The Latin American Free/libre Software Installation Festival (FLISoL) is the biggest free/libre software awareness event in Latin America. It happens since 2005 and its main is to promote the usage of free/libre software, presenting its philosophy, reach, advances and development to the general public.
FLISoL is an
event
with
gratis
attendance, that is, no fee is required in order to participate.
Important:
We are still accepting talks and collaboration submissions, and if you submit one now or tomorrow, you can still guarantee that yours will be evaluated after the deadline of March 30th.