Updated Scoreboard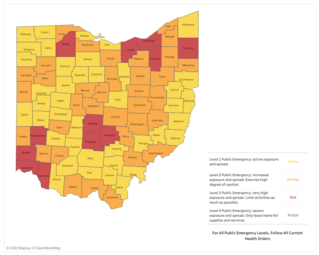 Okay, this is kinda bad.
One county (Huron) fell down from Red Alert to Orange Alert. The mask mandate by the Governor no longer applies in Huron as it is now below Red Alert.
We went from 7 counties to 11 counties at Red Alert. The impacted counties are now: Cuyahoga, Summit, Trumbull, Lorain, Wood, Franklin, Pickaway, Montgomery, Butler, Hamilton, Clermont. The new additions (Clermont, Fairfield, Lorain, Pickaway, Summit and Wood) will now be subject to the same mask mandate that was applicable as from 1800 Eastern on Wednesday in Butler, Cuyahoga, Franklin, Hamilton, Montgomery and Trumbull counties.
Ashtabula County holds at Yellow Alert. Our adjoining counties are either at Orange Alert or Red Alert. We've moved from the majority of our local cases in Ashtabula County being in congregate care settings such as the many nursing homes and the state prison to instead community spread. Our low population density and general anti-social behavior is helping us in this regard as people are not congregating much in the general population thankfully.