Apparently we're on Dianara 1.4.1 on Bionic Beaver?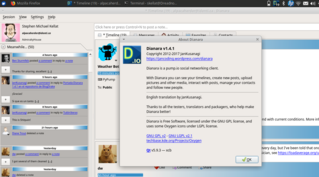 The in-situ upgrade was painful to Xubuntu 18.04. We're still early on and I upgraded to a daily. Apparently there are no alphas this round (nobody seemed to opt-in) and Beta 1 (if any flavour opts-in) would be March 8th. Final beta is April 5th. Release Candidate is April 19th. Final Release is April 26th.
Easter is April 1st. The general filing deadline for federal income tax returns in the USA (check if you have any exceptions for you here) is April 17th.
I'm sorry I'm not saying much. Work is hellish right now. This sums it up:
AJ Jordan likes this.