At This Point What Difference Does It Make?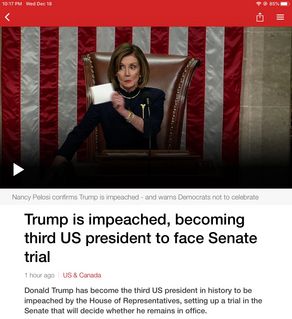 Van Drew of New Jersey, Peterson of Colorado, and Golden of Maine voted against impeaching. Gabbard refuses to vote in the matter. The ultimately stupid part is NO MANAGERS WERE APPOINTED ON THE PART OF THE HOUSE. They adopted articles and went home for the night. The Senate waited around on the House for managers to march in to present articles. With luck they're going to interrupt consideration of appropriations in the Senate tomorrow to present the articles.

The stupid idea I've heard of hanging onto the articles in the House and severely delaying their being walked over to the Senate serves no practical purpose. A time of "scorched earth" is coming. We need to get this idiocy in DC concluded promptly.