We Don't Need A Budget!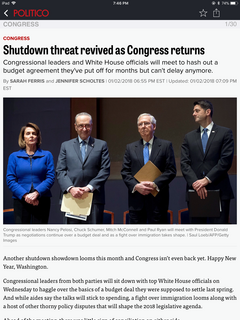 I was supposed to go back to work today. Influenza-A and a Sinus Infection plus doctor's orders resulted in my staying home. I got yelled at over the phone by a division officer and will make my way in tomorrow. Mandatory Muster Call versus Influenza-A.
I won't be at work long. I'm not "excepted-essential" and it appears the odds are rather high for shutdown in 3 weeks. No specific cause this time. It would just be an overdue Festivus miracle as there are so many unresolved grievances that finally need to go to votes.
The coward's outcome is to just extend the Continuing Resolution to cover the remainder of the fiscal year.