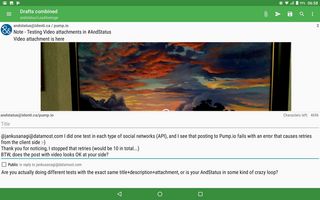 @jankusanagi@datamost.com I did one test in each type of social networks (API), and I see that posting to Pump.io fails with an error that causes retries from the client side :-)
Thank you for noticing, I stopped that retries (would be 10 in total...)
BTW, does that post with video looks OK from your side?
clacke@libranet.de ❌ likes this.
Yes, the video posts look OK, except for there being like 6 versions of the original one xD
Poor server...
» AndStatus@Identi.ca:
"@jankusanagi@datamost.com I noticed the same server deficiency for GNU Social also.
This is an effect of the "guaranteed message delivery" from #AndStatus side and "duplication problem ignorance" from the Server side.
I hope pump.io will fix this some day @alex@pump.strugee.net ?!
The long story about duplicated posts, caused by communication problems, is here: https://github.com/andstatus/andstatus/issues/83"
Funny, Dianara and other clietns have no such problems.
The server very clearly replies HTTP 200, or otherwise, whatever error applies. Simple as that.
I find it hard to believe that AndStatus posted 6 or 7 posts correctly, and the server failed to reply "OK, success" every single time.
Plus, the reply has a lot of valuable information about the post that has just been created, beyond the "ok, received correctly".
» AndStatus@Identi.ca:
"[...] In any case a server should not unintelligently deliver the same content to the same audience... [...]"
Why not? What if I happen to want to post the same thing once a day?
So, the server is "unintelligent" accepting the same post every hour, but AndStatus is not idiotic posting the same thing over and over in a loop, even though the server replied "OK, GOT IT, THXBAI", right?