AndStatus v.55.01 Beta with "ActivityPub Client to Server improvements"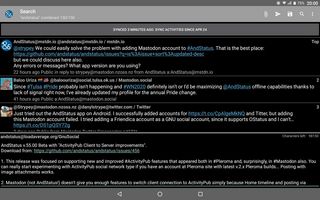 AndStatus v.55.01 Beta with "ActivityPub Client to Server improvements".
Download from: https://github.com/andstatus/andstatus/issues/456

1. This release was focused on supporting new and improved #ActivityPub features that appeared both in #Pleroma and, surprisingly, in #Mastodon also. You can really start experimenting with ActivityPub social network type if you have an account at Pleroma site with latest v.2.x Pleroma builds... Posting with image attachments works.

2. Mastodon (not AndStatus!) doesn't give you enough features to switch client connection to ActivityPub simply because Home timeline and posting via ActivityPub connection is not supported yet (corresponding pages give 404 Not found error).
But you can see our own posts on Mastodon servers and navigate to other Actors and their post via them (you can see profiles of other Actors and see their posts...). You can even play with Mastodon as an "ActivityPub" type Social network in AndStatus today! But prepare to see empty Home timeline and to be read-only there for now. Switch to "Sent" timeline and see your Actor's posts, see other actors and their posts similarly...
These new Mastodon improvements make me very optimistic about the future of ActivityPub in client apps across all server platforms.

3. Some important fixes, including more Avatars and Images will be shown.

4. More convenience for developers. Logging of network level messages (including response headers) improved. Even file names with responses are much clearer now, e.g. 2020-04-25-03-34-51-663_social.tulsa.ok.us-oauth_register_client_response.json or 2020-04-25-03-35-02-235_mastodon.technology-get_actor_response.json (real names from my log). Remember that logs are stored for 10 days and can be optionally included in a Backup!

Server developers, please use AndStatus as your testing client! https://loadaverage.org/attachment/5911794
--
andstatus@loadaverage.org
URL: https://loadaverage.org/notice/19107669
Tom Tishken, Distopico, Michele Montagna likes this.
Michele Montagna shared this.