Pingsi Station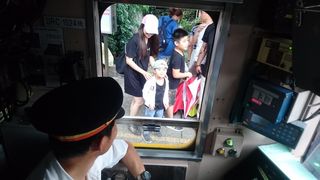 It was very crowded on the train. I was on the first car and was squeezed to the very front. Standing beside the driver booth, by luck I saw this young boy and the driver gazing each other. People on the street were waving hands at us, and taking pictures of the train as it slowly left Pingsi (平溪).
Earlier we had lunch at Wanggu (望古), an obscure stop on the Pingsi line. The occasion was the 70th birthday of Prof. Lin, a mentor of many of those who were gathering that day.
Carol Chen, Dana likes this.