MediaGoblin federation first demo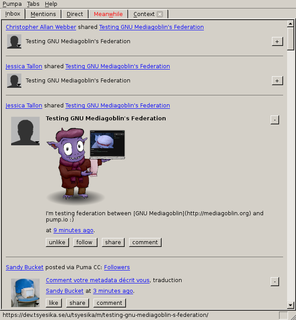 It might not look like much, but the screenshot above is the first demo of federation in MediaGoblin. This is using the Pump API, with MediaGoblin talking to Pump.IO!
All of Jessica Tallon's hard work is finally paying off! Whooooo!
AJ Jordan, Sajith Sasidharan, jrobb, Tyng-Ruey Chuang and 20 others likes this.
mnd, Claes Wallin (韋嘉誠), Claes Wallin (韋嘉誠), Olivier Mehani and 6 others shared this.
Show all 8 replies



I going to use a mexican phrase to express my emotion "A toda madre!"