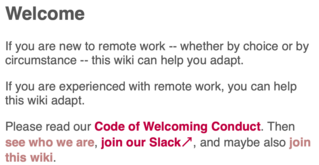 A very productive hour collaborating on https://shapemywork.com: two more people are set up to edit, and the 5 of us put our heads together to greatly improve the front page.
Our next Zoom session: Friday April 24, 1pm Pacific, 4pm NYC, 10pm Germany, etc. (DM me for the link.)
WE ARE THE BORG. YOU WILL BE ASSIMILATED.
RESISTANCE IS FUTILE.
YOUR CULTURE WILL ADAPT TO SERVICE OURS. 😁


I'm a little uncomfortable with Zoom and Slack, for reasons you'd probably recognize, so I appreciate these suggestions.