Sailfish Browser open sourced for community
Jolla at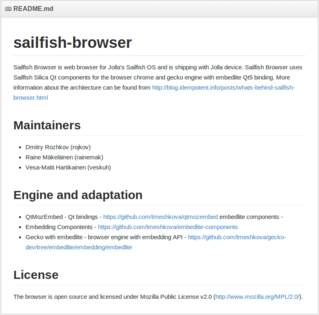 Today we're proud to announce the first internal application project to be open sourced for community. As of today the code for the Sailfish Browser can be found in GitHub version control system at
http://github.com/sailfishos/sailfish-browser
The Sailfish browser has been built on top of Mozilla open source Gecko browser engine, using EmbedLite embedding API (also known as IPCLiteAPI). Our objective is to make this the first step to get official support from Mozilla Corp. to a mobile browser based on Gecko and embedded in Qt.


Read more here
https://lists.sailfishos.org/pipermail/devel/2014-February/003352.html
Alberto Moshpirit, Adrián Chaves Fernández, Nikos Alexandris, Stephen Judge and 5 others likes this.
cnlpete shared this.