Dianara v1.3.6 is out =)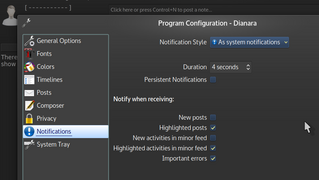 Hey there, Pumpers! o/
A new version of my Pump.io client, Dianara, is out!
It's a rather small release. Main changes are:
HTTP redirections will be followed when loading images (

Qt 5 only

).
Duration of popup notifications is now configurable, and notifications can be set to be persistent.
Some input fields will show a button to clear them (

Qt 5 only

).
Added Galician translation by @EVAnaRkISTO (thanks!).
As you can see, a couple of the changes will only be present if you build Dianara with Qt 5.x. You'll need a Qt5-built version of QOAuth for that. Mageia Cauldron (future Mageia 6), the Debian Experimental repository (and soon in Sid, directly) and Archlinux, among others, offer this already.
As for the future, I'll probably make a small-ish 1.3.7 release still supporting Qt 4, and then jump to a 1.4.0, supporting only Qt 5.x and dropping support for Qt 4.x. That would be around mid-2017, which I think makes sense ;)
Kalaberas, Manuel - Cuenta abandonada, Christian - Identica, cronos and 7 others likes this.
kenyahhtah, Christian - Identica, Stephen Michael Kellat, Stephen Sekula and 1 others shared this.
Show all 5 replies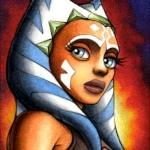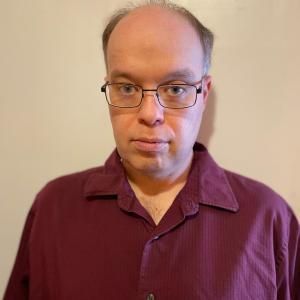 Ubuntu backports are on hold as I'm trying to figure out if there is still a backports team left. Will advise as there have been too many people standing down lately.
By the way, I'm looking at tracker and not seeing anything in Experimental yet.