Promotional material from FSFE arrived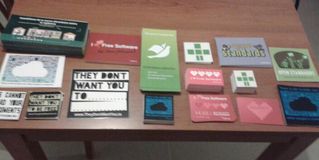 Lots of stickers, leaflets and postcards, and two posters!
Elena ``of Valhalla'', David, Ben Sturmfels, EVAnaRkISTO and 6 others likes this.
victorhck shared this.


If you plan some event in Madrid ping me for picking up some of them to spread the word!
I'm sure you've heard of the upcoming
Internet Freedom Festival
in Valencia. That would be a good opportunity for someone to pass out promo material.